Before
Our objective is to combine multiple 3D printers and let them work as one that can be used by consumers without the use of an expert.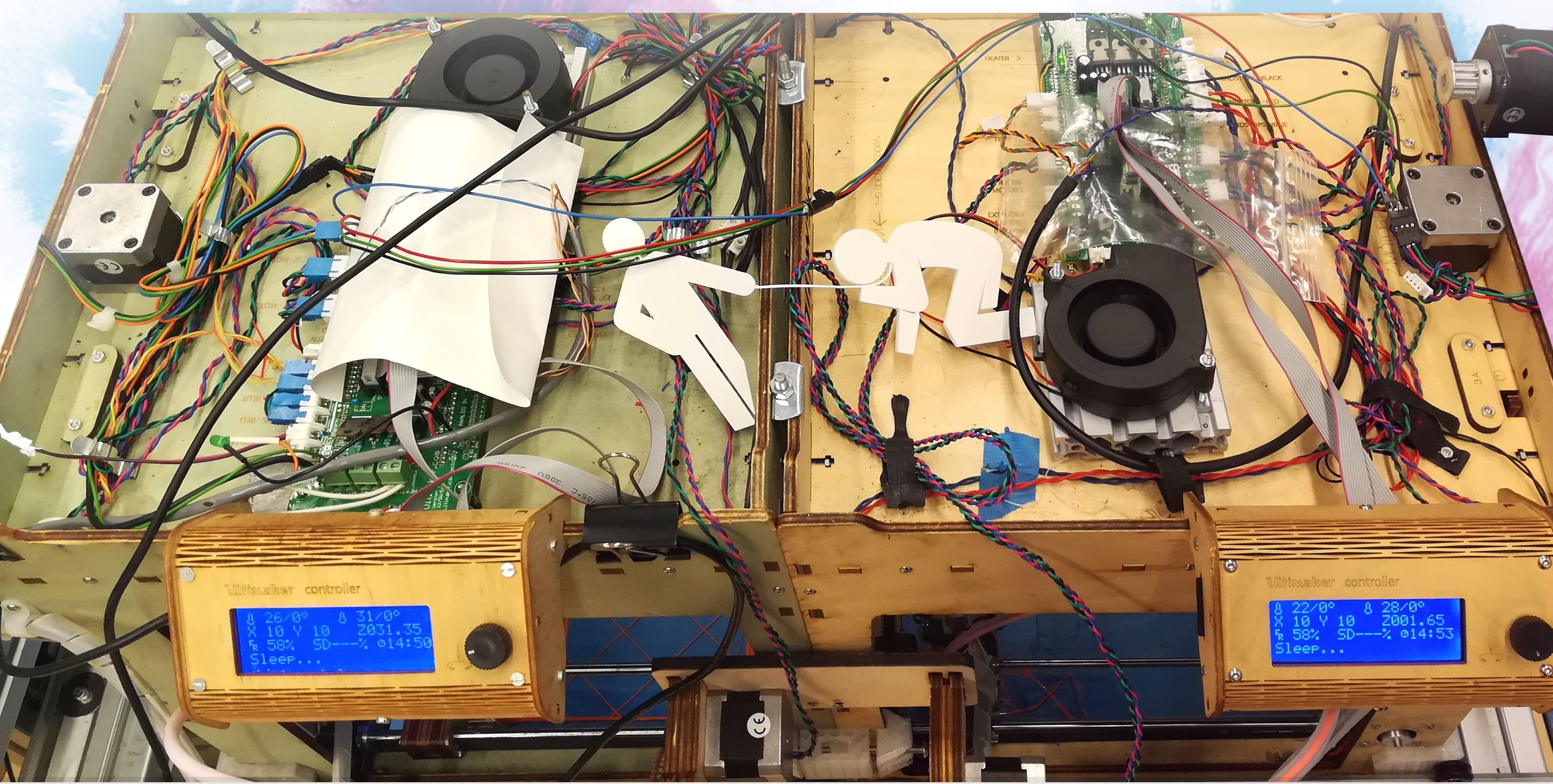 The ultimaker XXL consists of two traditional Ultimakers rearranged and fixed in an external frame. It increases the printing area and heigth by four times. The printer operates by printing four separate parts in different places distributed over the external X-axis. Looking from a mechanical and user-friendly perspective, this method was under developed.
From here on, our main objective flourished. A straightforward implementation for an overlap technique had to be prototyped with accessible design, so every consumer could easily print large scale objects.
As a team of four multidisciplinary students we developed the solution. Now you can print XXL!
After
Rapid XXL prototyping improving robotics develpoment. In collaboration with the Robotics Stabilize machine we gave functional purpose to large scale printing.
Programming the post processor for the generated G-code. The key feature in solving difficult object preparation.
Testing with different kinds of overlaying techniques. Experimentation led to the finest and toughest overlap structure.
Drastically improved visual design. Making the consumer feel comfortable with the printer they work with.
Adding additional hardware like LED's and stepper motors to further improve print quality and consumer satisfaction.
Prototyping an accesible design does not mean only the cutting process had to be developed. To make the printer look less frightening, cable management in combination with a brand new laser cut top cover let the consumer print at ease.
LED's have been added to improve day- and nighttime visibility. Stepper motors underwent an upgrade in order to advance print quality. New air flow canals were laser cut to boost the cooling efficiency. An advanced Pi case was fabricated to enhance electronic safety. Also, a brand sign was constructed to complement the overal visual design. All of these design improvements embellish the printer and the printing process itself.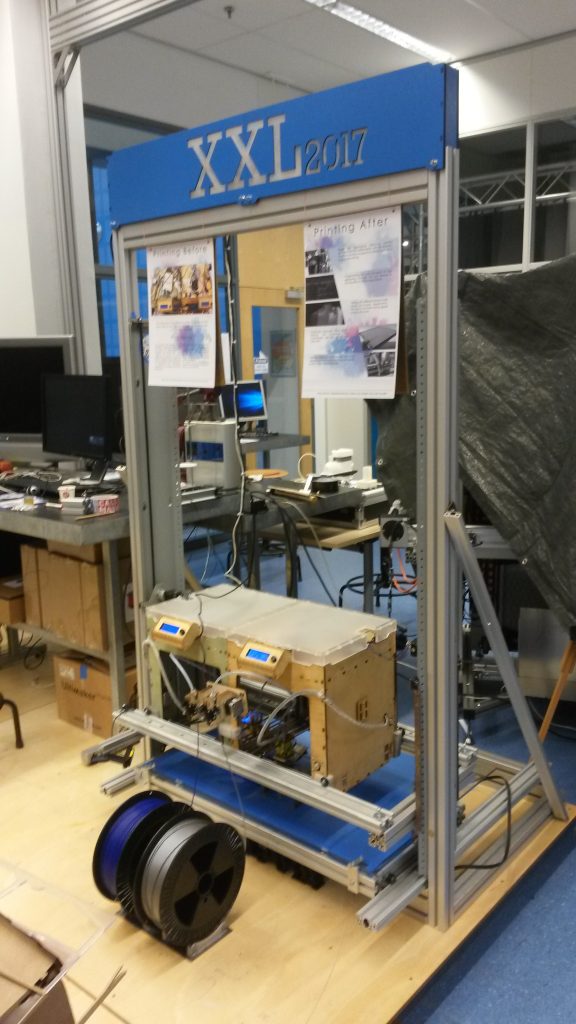 For more detailed information, check:
www.XXL2017.weblog.tudelft.nl
We are a team consisting out of four multi disciplined students. Together we delved into the subject of 3D printing to get a better understanding of the subject and its specifics.
Alea Arends
Role/expertise:
Architecture, Rhino, Grasshopper.
Liselotte Bormans
Role/expertise:
Industrial Design: Woodwork building,
drawing (planning, tables)
Dana van Hassel
Role/expertise:
Fine arts (painting, sculpting), Computer science (java programming)
Paul van Houten
Role/expertise:
Mechanical Engineering, webdesign, 3d modelling (3DsMax, Solidworks, Rhino) & rendering
The purpose of the program is to generate 2 gcode files for the XXL printer. It splits a model in 4 parts: A,B,C and D with overlap The purpose of the program is to generate 2 gcode files for the XXL printer. It splits a model in 4 parts: A,B,C and D with overlap and add additional toolchange scripts and layer changes. Part A and B are written to the Master file and C and D are written to the slave file.
The cutting of the object works as follows:
Input: complete G-code model
Cut lines creates subobjects
Creates overlap on both sides of cut line
Between every different subobjects there are toolchanges and Layerchanges.
If a cut needs to be made, the y value belonging to the x on the cutline is calculated with a simple slope function. The new x and y values are stored in the corresponding sublayer and a correct gcode line is written:
G1 X… Y… E…
New coordinates meant that new extrusion values had to be calculated as well. Prototyping a succesfull post processor for the G-code brings more challenging objectives with it. To overcome the problem where the master stopt sending external X movements as soon as it only needed to print one final part, we inserted 'empty layers' to make sure external X movements are always present. Hereby the slave can always continue printing in the correct position. In order to keep both printers print in sync, the layer height was pulled from each layer and put into the layer change post process script.